Our Address:
INI – International Neuroscience Institute®
Rudolf Pichlmayr Str. 4
30625 Hannover
How to get to the INI:

via plane: Take a taxi from Hanover airport near Langenhagen (about 30 minutes).
via car: Take the A37 (motorway link to Hanover exhibition grounds) to the "Weidetorkreisel" and take the exit "Karl Wiechert Allee" (see map) Turn right at the first traffic lights.
via train: From Hanover central station take a taxi to the INI.
Please note:

Our street name has been changed: The old name "Alexis-Carrel-Str. 4" is still used by electronic route planners and GPS navigation software.
Service-Center
Phone: +49 511 / 270 92 – 0
Mo – Fr: 08:00 – 20:00 o`clock
Please use our online inquiry portal for online requests.
If you would like to schedule an MRI appointment or an outpatient presentation please use the contact information of the neurosurgical outpatient clinic.
Please note:

Requests for a diagnosis and treatment recommendations are subject to costs
INI Hanover does not bear any costs of shipping (customs duties, courier charges etc.)
Please declare your shipment clearly as "Medical Documents"
Please declare your shipment clearly with the commercial value "Zero"
Please send us copies only – including copies of CD´s and the like (originals cannot be returned at the expense of INI Hanover)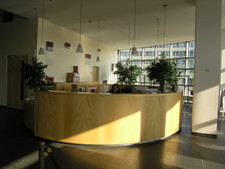 The reception

Here our receptionists will welcome you. They will make every effort to help you during your stay at the INI.

The secretaries

Our secretariats manage your inquiries and arrange the appointments.

The patient admission office.

Here, all administrative questions will be handled.
The INI provides outstanding comfort for your stay as a patient. All facilities of the INI are designed to avoid the impression to be in a hospital. In order to give you a hotel-like feeling, medical technology is concealed as best as possible.
All patient rooms are amply furnished with parquet floor and modern, comfortable chattels. Large windows provide an airy room feeling and in many rooms a nice view into close-by park areas.
We provide 1, 2 and 3 bed rooms, but also excusive suites for patients and their accompanying persons. All rooms are equipped with a hotel like bathroom, but meet in addition the needs of disabled patients.
On the wards you find nice amenities, e.g. lounges where you can meet your relatives and friends. The spaces are embellished with works of art, paintings and sculptures.
All these efforts shall ameliorate the psychological burden from your disease.
Patientengarden
The INI garden is adjacent to a large park area. It gives you a nice view and is convenient for your first walks after operation.
Cafeteria
The cafeteria is airy and friendly furnished. German and Arabic cuisine are provided. For our Jewish patients Kosher food can be ordered.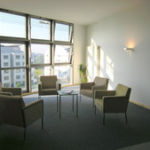 Lounges
The wards offer lounges, where patients may meet each other or  their relatives and friends.